On behalf of the MSMEC Board of Directors and staff, we wish you a safe 4th of July holiday!
In observance of Independence Day, our offices will be closed on Thursday, July 2, 2020.
Offices will be open for business on Monday, July 6, 2020.
Pictures from the pole replacement project in San Juan on 6.24.2020.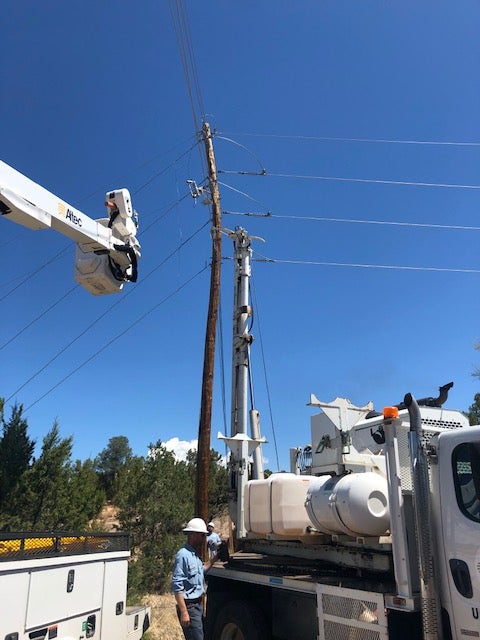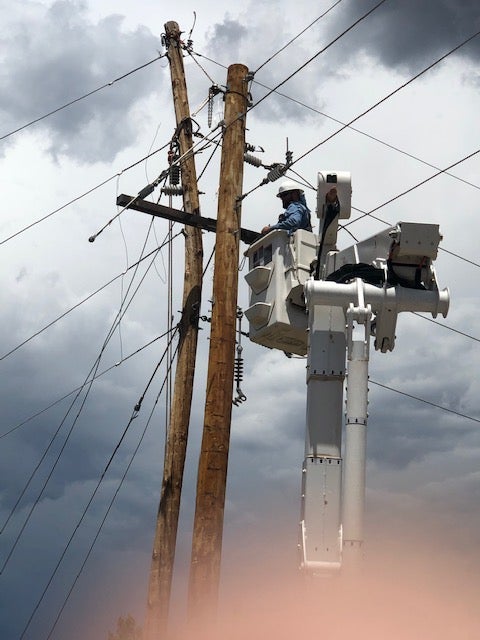 NOTICE TO MEMBERS - PHONE SYSTEM UPGRADE
MSMEC Annual Meeting Notice to Members
Reminder - our office is closed to the public!
You can leave a payment in the drop box
pay online or by phone!
Call volume has increased and for this we ask for your patience!
Mora-San Miguel Electric Cooperative, Inc. will begin the "Summer Hours" work schedule on April 29, 2020
Office Hours:  Monday - Thursday 7:00 a.m - 5:30 p.m.
Closed for lunch from 12:00 - 12:30 p.m.
Office is closed on FRIDAYS!
Effective, Monday, 3/23/2020 at 8:00 a.m., the Mora-San Miguel Electric Cooperative, Inc. offices will be CLOSED to public access.  You may pay your bill online,  by phone, by mail, or through the use of the drop box.  Payments left in the drop box must have a PAYMENT STUB!  We are taking these measures to protect our employees, our Members/Consumers. Thank you for your cooperation and business!   
                Reports on the coronavirus (COVID-19) continue with updates daily, Mora San Miguel Electric Cooperative, Inc. (MSMEC) in cooperation with New Mexico Rural Electric Cooperative Association continues to monitor developing news as the virus impacts the health, safety and welfare of our Employees, Members/Consumers and people throughout the world.  
            MSMEC like all rural electric cooperatives are reviewing and developing continuity plans for the purpose imposing measures intended to protect employees and members/consumers while insuring the delivery of electric service throughout the duration of this outbreak. 
            MSMEC measures will serve to protect all concerned while insuring critical operations are performed to provide reliable power, accurately account for use of electricity and insure payment for services rendered.
            MSMEC's plan will be implemented in 3 phases including Mitigation, Response and Emergency. All phases identify responsibility and employees who will be called upon and responsibilities.  
            MSMEC will remain steadfast in delivering your electric service however implementation of measures may impact the way you are used to performing your business with us. Be assured MSMEC will work with members/consumer to the extent possible and we ask that you comply with measures taken by MSMEC. 
            Continuity Plans/measures will be implemented as conditions warrant and remain in place until the Board of Directors determine otherwise. 
To find out more about MSMEC's Continuity Plan go to:  http://morasanmiguel.coop/news-and-community  
To minimize face-to-face encounters, we strongly encourage you to use our online payment portal:  http://morasanmiguel.coop/billing-payment-options
If you do not have an online account, you can create one with the following information, which is available on your bill:
Account number (first 5 digits)

Name as it appears on your bill

Primary phone number for your account
For updates to our offices, please visit our website at:  http://morasanmiguel.coop/news-and-community  
And on our Facebook page:
https://www.facebook.com/login/?next=https%3A%2F%2Fwww.facebook.com%2Fgroups%2F2281902492076135%2F
If we can be of assistance, please contact our offices:
Mora – 575-387-2205/800-421-6773                                             Pecos – 505-757-6490/ 888-783-0011